I'll shed light on all Boracay beaches that you should visit
Boracay Island is known for its beaches. Whether you're looking to head to the tourist mecca of White Beach or feel the wind in your hair windsurfing at Bulabog Beach, you'll find all the information you need here on the Boracay Beach Guide.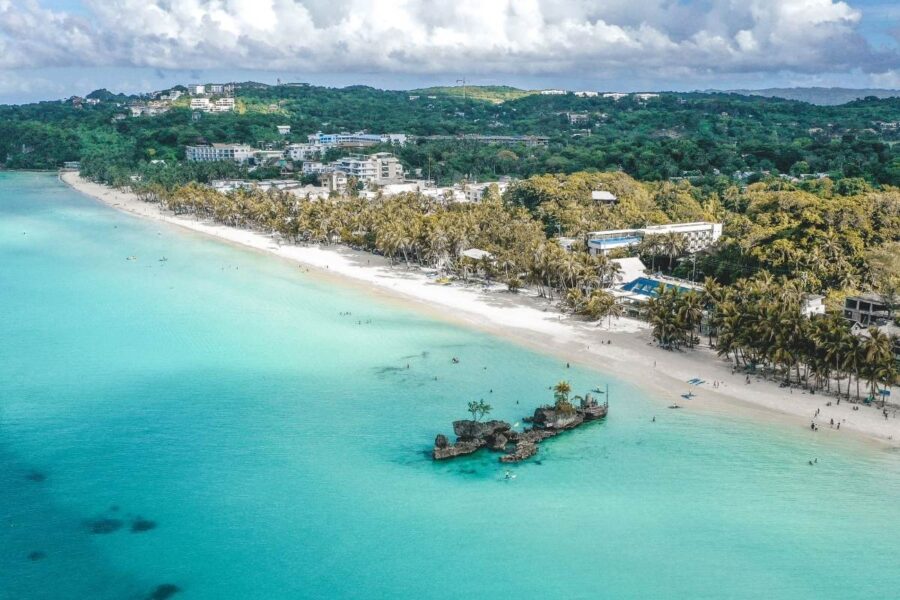 Boracay is divided into five areas or zones called 

Stations

Each station has been created according to the land use of that particular area. White Beach makes up zones one, two, and three. Bulabog Beach is zone four, while the more exclusive areas of Boracay form zone 5.
Here's a map of the zones on Boracay Island

Boracay stations don't exist. Well, they used to, but now they don't. Or do they? Let me explain.
First of all, we're talking about "boat stations" supposed to be located along the four-kilometer stretch of famed White Beach. There are, or were, three of them, aptly named:
Station 1
Station 2
Station 3
Boracay Stations: A Little History
All boats coming from Caticlan jetty port (the main gateway to the island of Boracay) used to go straight to White Beach to drop off tourist passengers.
Boatmen would set up ramps to embark and disembark travelers on the very shores of one of the most breathtaking beaches known to man.
The local tourist board designated three strategically positioned boat stations to facilitate visitors' orderly arrival and departure. For years this setup worked well until… the explosion of visitors to the island.
Officials knew that in order to preserve the pristine condition of the beach that put Boracay on the map, and more importantly, to keep the swimming public from being rammed by a "banka" (local motorized boat) sooner or later, a full-blown port in a safe area must be built.
That safe area went to Cagban Beach, the southernmost beach of Boracay. Hence, the Cagban Jetty Port was born, and the boat stations were abandoned. Or were they?
Some Things Never Change in Boracay
The boat stations may have been gone for quite a while (since 2006), but interestingly, their significance remains.
For years everyone has been using the three stations as a reference point in everyday life on the island. Most notably, the hotels, restaurants, shops and other establishments along the beach and beyond have included the Station number in their official address.
So as far as everyone is concerned, especially the locals, the Boracay stations are invisible, sentimental landmarks never to be forgotten.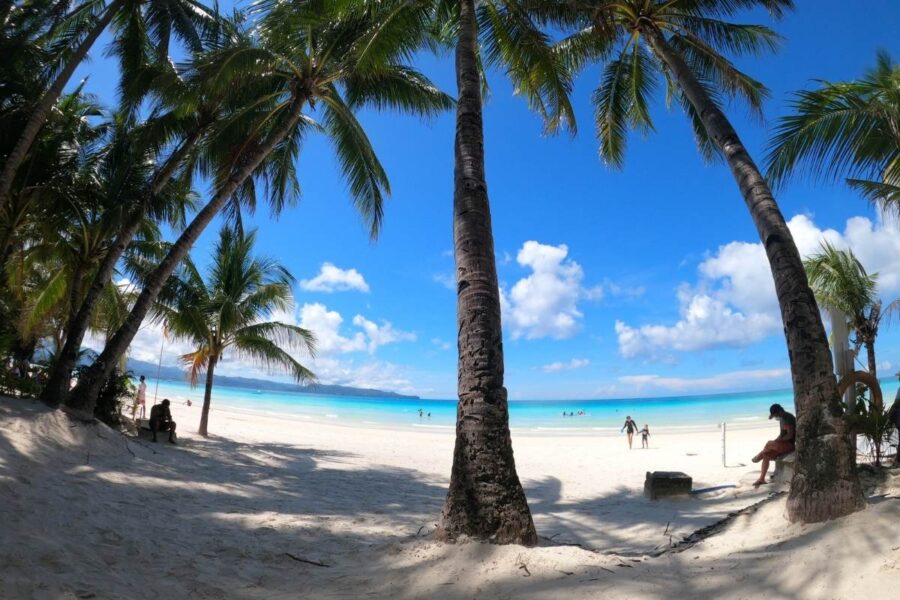 White Beach covers all of Zones 1, 2 and 3
Station 1
The northernmost part of White Beach (to your extreme right if facing the sea) is covered by Boat Station 1, up until Crystal Sands Beach Resort.
The beach is generally at its widest in this area, with the water at its shallowest and calmest.
It is also where you will find the finest and whitest sand on the entire island. No wonder most of Boracay's high-end resorts and hotels are located here.
Perhaps it's safe to say that Station 1 is the most upscale of the three. No offense Station 2 faithfuls… 🙂
Station 2
Beginning at The District Hotel all the way to La Carmela Hotel is what constitutes Boat Station 2, the busiest and liveliest of all.
If you prefer being in the middle of all the action like I did twenty years ago, you are going to love it here! Almost everything, if not everything that may appeal to your social side is just a few steps away.
Yup, this is where you party all night loooooong…
Most of the restaurants, bars, shopping spots and other establishments of general interest are crammed in Station 2, which is also the shortest.
Station 3
The alley after La Carmela is where Boat Station 3 starts and ends, and White Beach ends down south (to your left if facing the sea).
Station 3 is where you'll find an affordable mix of peace and comfort. More often than not, it is also where you will be able to experience the old vibes of Boracay's past ambience.
Laid-back, sleepy, low-key – that kind of atmosphere.
Long Live Boracay Boat Stations!
I would venture to say that after the ever popular White Beach (also called Long Beach to a lesser extent), boat Station 1, Station 2 and Station 3 are places or areas of interest that quickly come to mind during a Boracay conversation. They certainly are for us, even though we know that they stopped existing long ago.
Technically the Boracay stations are no more, but in reality, they still are. It works just fine as it is, apparently. Everyone seems more than content, and that is all that matters.
White Beach in Boracay is famed for its powdery white sands filling a stretch of four kilometres. It's truly the most beautiful and by far the biggest beach on Boracay Island and excellent for swimming. You'll find plenty of restaurants, hotels, nightlife, and activities along its beachfront. See all activities and tours on Boracay's beaches.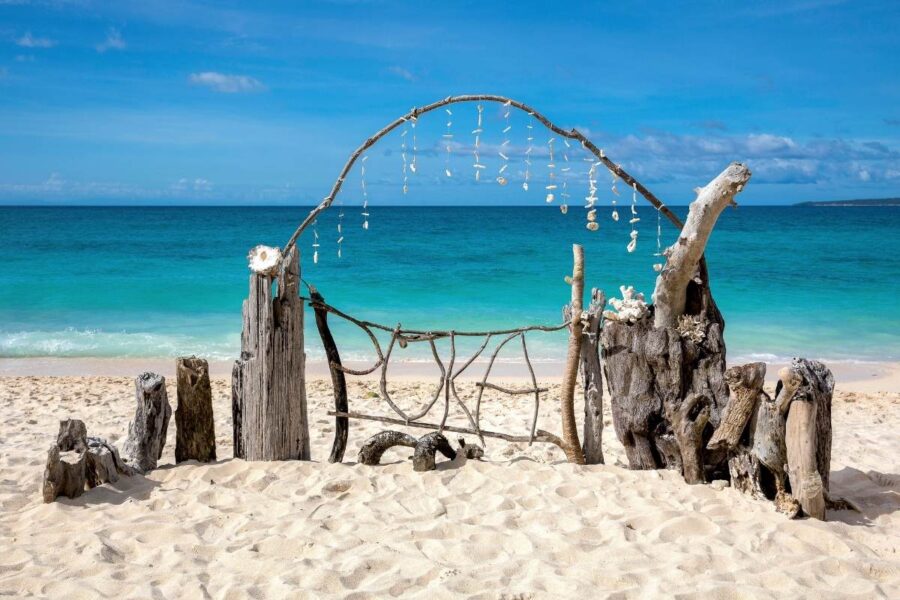 Puka Beach is located on the remote coastline in Zone 5
Imagine White Beach before resorts and commercial establishments cluttered the beachfront. This remoteness is what Puka Beach looks like. The beach has souvenir shops at the entrance, a ride away from White Beach. However, the unadulterated feel of the beach will make your visit here worthwhile.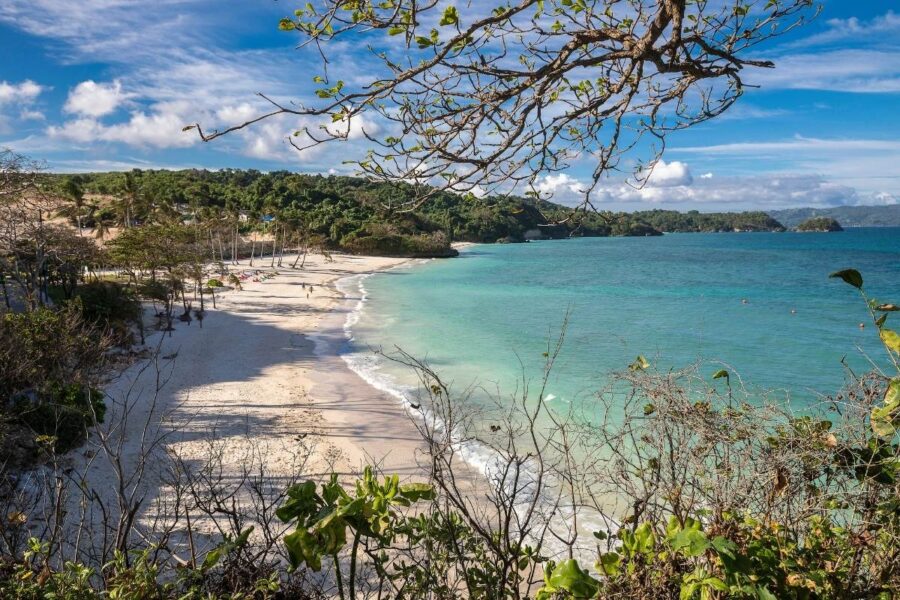 Ilig-Iligan Beach is on the edge of Zone 5 and Zone 4
If you're big on snorkeling, then this beach is for you! Located on the island's northeastern side, the beach can be reached via island hopping trip or walking from the shore. Aside from snorkeling in its crystal clear waters, the beach offers an excellent spot for people who wish to picnic.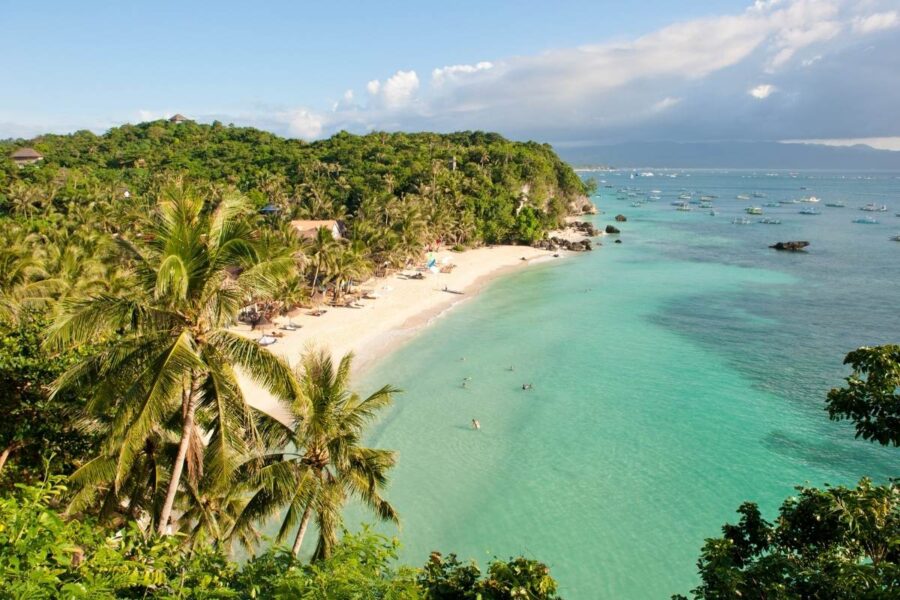 Diniwid Beach is also located in Zone 5 but on the western side
This beach is the more peaceful and less crowded version of White Beach. Diniwid Beach is a great place to kick back and enjoy the tropics' natural beauty for those who want to get away from the noise and clutter of their everyday lives.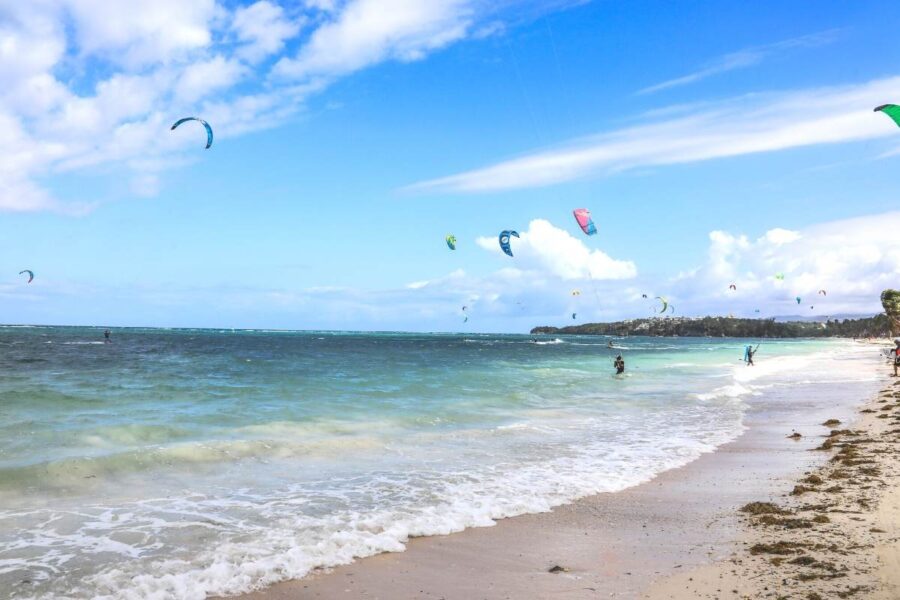 Bulabog Beach is in Zone 4 on Boracay Island
The sand here in Bulabog Beach isn't as fine or powdery compared to White Beach. However, it compensates for the wealth of water activities like parasailing, kiteboarding, flying fish rides, and banana boat riding.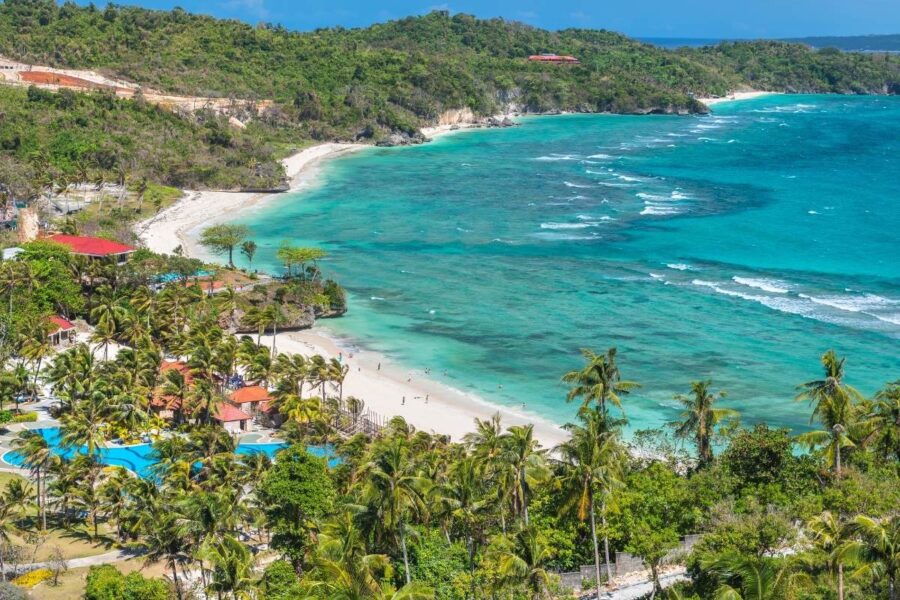 Lapus Lapus Beach is located on the eastern side of Boracay Island – Zone 5
Lapus Lapus is the exclusive beach for Fairways and Bluewaters Resort. If you want a piece of Boracay all to yourself, reserve a room at Fairways and Bluewaters Resort and spend as long as you want on this beach.
Below are the other beaches in Boracay
Lugutan Beach is the docking station at Station 3 for boats on the island and Caticlan.
Tulubhan Beach and Manoc-Manoc Beach are mostly flocked by local villagers looking for fish and urchins on the seabed and boats docked on the shore.
Sugod Beach is near Tulubhan Beach and appears to be private property. However, visitors are free to look at the beach's ruggedness.
Cagban Beach can be visited through a narrow passageway from Cagban port. Aside from an eatery in front, the beach is far from being the most visited on the island.
More advanced snorkellers best enjoy Tambisaan Beach as it has many coral gardens below.
Here are some more of my articles on Boracay Beaches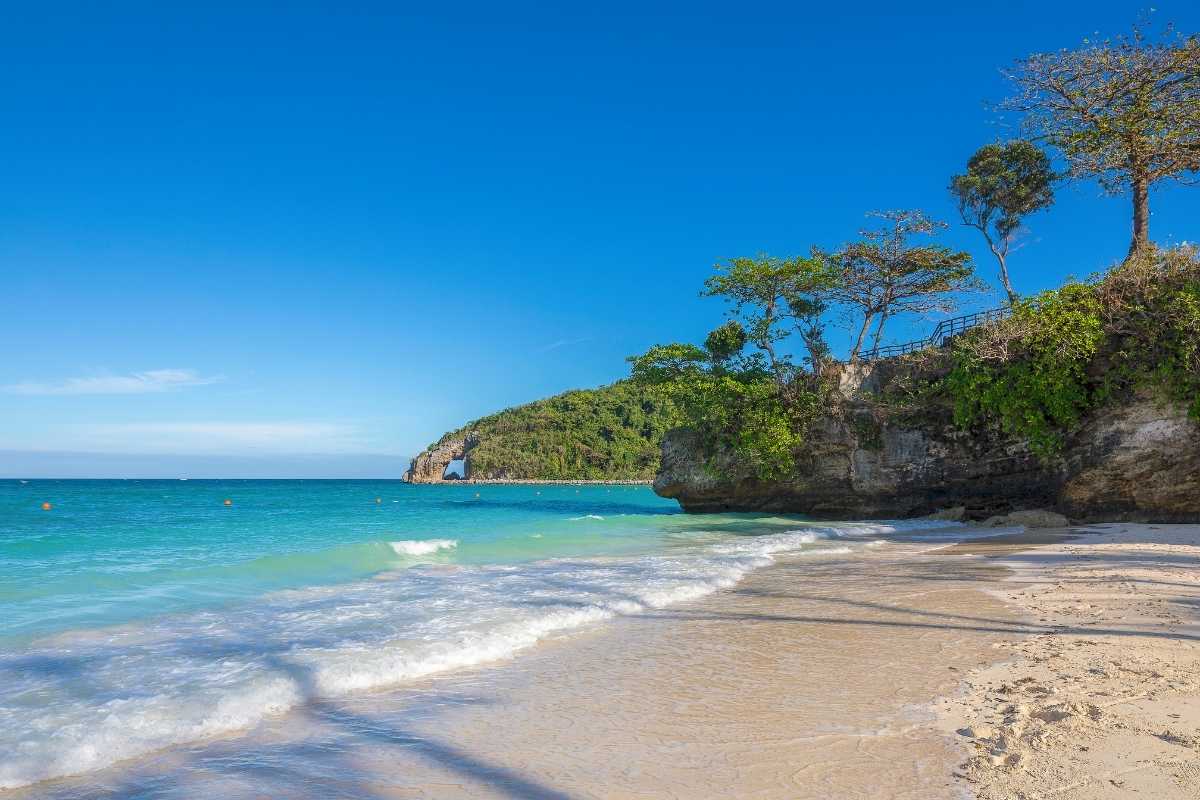 Beautiful beaches such as those on the island of Boracay in the Philippines have long been a favorite vacation spot for people looking for relaxation