Your Guide On Traveling To and Around Boracay Island.
The Boracay Beach Guide is your place to find information on how to get here, and once here, how to get around the island.
Boracay is a small beautiful island in Aklan, Philippines. Its seven-kilometer length has no airport, so travelers touch down at either the Caticlan or Kalibo airport in mainland Panay Island to reach Boracay Island's pristine beauty.
Booking Your Ticket To Manila
When I travel, I do not always go with the least expensive ticket; I consider the time to get to my destination. For instance, if the cost difference between a direct and connecting flight is not much, I take the former for it does not have long stopovers, and because this leaves me ample time on the first day of my holiday, plus the jet lag is more tolerable.
Speaking of jet lag, I found out that drinking plenty of water and no alcohol and eating minimally helps reduce the effects of jet lag. But I also take the added precaution of taking a few sleeping pills, which I get from my doctor.
I have traveled back and forth to Asia more than 30 times, and some of these were milk runs (those long trips that could take around 40 hours) that are so tiring. Well, now, when I fly to Manila on a direct flight, it just takes 13 hours for an extra 300 US dollars or more. Upon arrival, Manila airport customs would not hold you long; they are fast and do not cause too much hassle when you go through them.
You've arrived In Manila and are looking for a taxi
If you are staying in Manila, you will have to hail a taxi. One tip: airport taxis do not always automatically turn on their meters. Although taxis are dictated by law to turn on their meters and not give a set price to the passenger, sometimes you have to point it out to them. Being a constant traveler, I have solved this issue in two ways: One, I take the more expensive yellow taxi because they turn on their meters in practice. Two, I look for a white cab and ask the driver if he will turn on the meter. If I got in and found the driver was friendly, I would give a good tip. From the airport, it is about 300 pesos to most hotels.
What's the Best Time To Fly When Traveling to Boracay?
I have flown to Boracay and Kalibo more times than I want to think of, and one thing I am convinced of is that early flights back and forth are the best to book. As the day goes on, I have noticed that flights may get delayed; by mid-afternoon, some may even get canceled or diverted to Kalibo even if you booked for Caticlan! For your return flight home, choose early flights to ensure you can catch your connecting flight, even if you have to wait in Manila. The Mall of Asia, a short taxi ride away from Manila airport, is a great place to spend a few hours.
What Is the Cheaper Option For Flying To Boracay?
Flying in or out of Kalibo is cheaper, but it takes two hours longer as it is further from Caticlan Jetty Port. I only use this option when I am not in a hurry. Once in Caticlan or Kalibo, you have several options for getting to your accommodation if you have booked one. Check out our article Cheap, Fast Ways to Fly to Boracay for more tips on traveling to Boracay.
How Do I Get To Caticlan Jetty Port From the Airport?
Some hotels offer a service where a hotel representative will meet you at the Boracay Caticlan Jetty port. But you would have first to make your way from the airport to Boracay Island. From Kalibo airport, this means a van or bus to Caticlan Jetty Port, or from Caticlan airport, you take a Php50 trike ride to the Caticlan Jetty Port. Then, pay approximately Php300 to cover the jetty port fee, environmental fee, and boat fee before getting on the next boat heading to Boracay Caticlan Jetty Port; porters will carry your extra bags onto the boat for Php20 to Php50 depending on size and weight. It is about a 10-minute boat ride.
How Do I Get To My Hotel On Boracay?
Upon arrival in Boracay from the Caticlan Jetty Port, you can rent a tricycle; the price is Php20-50 per person to share a tricycle to D'Mall. Or take a tricycle on your own for Php120-150 to your hotel. If your hotel is at the far end of the island, it will cost a bit more.
Another stress-free option is a complete airport to hotel transfer service from either Caticlan and Kalibo.
How Do I Manage My Money On Boracay?
There are banks, automatic teller machines, and money changers on the island. I secure my money in three ways. Cash is always good for you to get the best exchange rates on most currencies. I recommend bringing cash and exchanging it at a bank on Boracay. It would be best if you had your passport for this. Debit cards are what I use; you can withdraw a maximum of Php10,000 for a Php200 charge per transaction. ATMs that accept debit and credit cards are mostly located near to the D'Mall. Credit cards are honored in some places and banks, but it mostly depends on the provider.
Going to Boracay will help keep a lot of small bills like 20s, 50s, and 100s; 5- and 10-peso coins also come in handy. Foreigners need to inform their banks about your travel abroad because they might cut off your card if they detect that it is being used overseas.
Traveling to Boracay indeed takes some experiential learning, so hopefully, these tips have been helpful if you are a first-timer.
First Time Going to Boracay?
Then you might be wondering how to get there. This infographic shows the four pit stops from Manila to your hotel: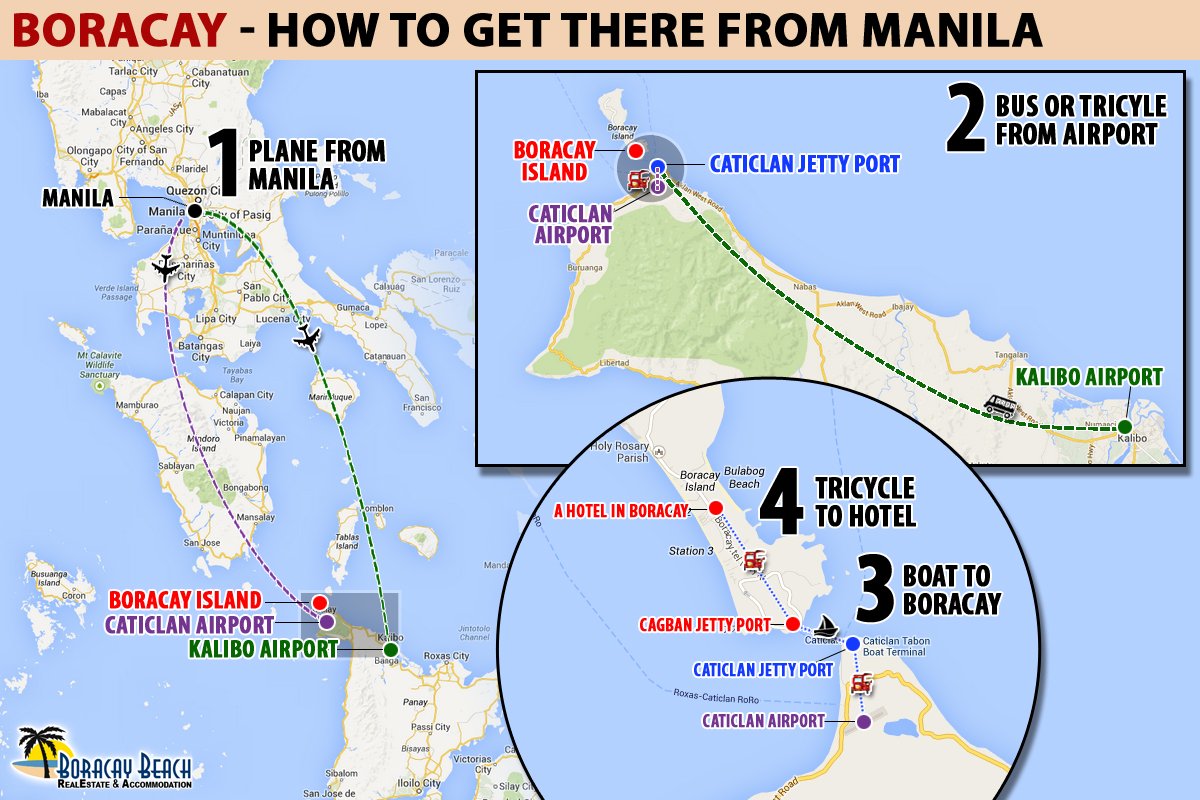 Do You Know Your Rights As Air Flight Passengers In the Philippines?