Who says that beach parties and active nightlife activities can only be experienced in places like Bali, Spain, Hawaii, and the Caribbean?
The truth is, the editors at Cheapflights.com have included Boracay in the list of the top ten beaches for partying around the world.
Making it to the list along with Ibiza, Spain; South Beach Miami; Gordon Beach in Tel Aviv, Israel; Nissi Beach in Ayia Napa, Cyprus, party and nightlife in Boracay have been chosen as among the best especially as it features fire dancing, fireworks, live bands, DJ's and a lot of dancing.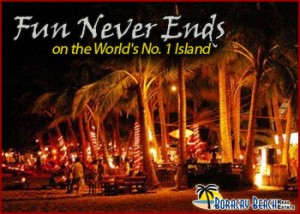 On a typical day at Boracay, you will find people walking along the beach and strolling along the shores. People go shopping at D'Mall and in some other shopping areas. Tourists enjoy water sports while others are lazily lounging under the shade of the coconut trees. However, as night comes, this totally transforms into one party place that is being flocked to by nocturnal partygoers. Best of all, the party does not end until the early hours of the morning.
These are the party places that take the limelight of the nightlife in Boracay
Reggae music can be heard in Station 3. A Bar-be-que is held every Friday night by the beach wherein live music plays in the background.
There is the Red Pirates Bar that plays Bohemian music. You can choose to sit inside the bar or al fresco. You will also be able to mingle with the friendly owners who are usually there building rapport with customers.
There is also Azul, Cocomangas, Loco Frio, Epic, Bamboo, Cork, Calypso and Sanga Bar, Station 3 Sports Bar, and many others.
After you have enjoyed a night of nonstop partying, it's just a short walk along the beach back to your hotel.